News/Archives
DEDICATION CEREMONY POSTER - JULY 12, 2008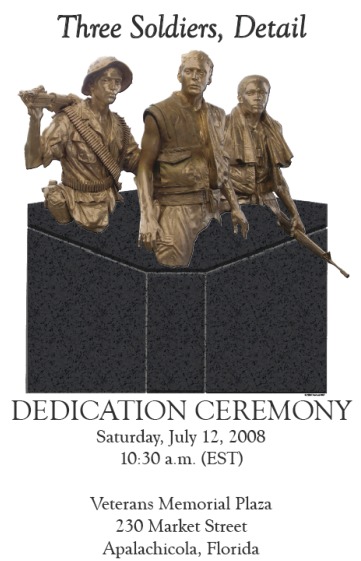 About Three Soldiers, Detail Statue


Three Soldiers, bronze, is part of The Vietnam Veterans Memorial, Washington D.C. (1982- 1984) Along with The Wall, this monument serves as a symbol of our nation's honor and recognition of the men and women who served in the Vietnam War. This monumental figurative work of soldiers speaks to what Frederick Hart called "their true heroism that lies in the bonds of loyalty". It is a visual reference for the ages of their courage and devotion to their country.

The Three Servicemen Statue South non-profit organization was created to raise the necessary funds to bring this one-of-kind detail of the original sculpture to Apalachicola, Florida. The Three Soldiers, Detail bronze sculpture, made from part of the original molds, will be set on a black granite pedestal and will be the centerpiece of Apalachicola's Veterans Memorial Plaza.



Three Servicemen Statue South, Inc. is a 501(c)(3) organization.
Founder and President is Jimmy G. Mosconis.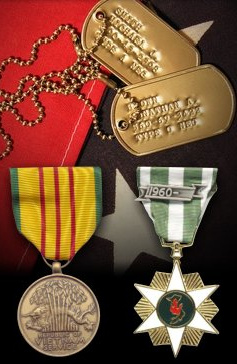 The Three Servicemen Statue South non-profit organization was created to raise the necessary funds to bring this one-of-kind detail of the original sculpture to Apalachicola, Florida. The Three Soldiers, Detail bronze sculpture, made from part of the original molds, is set on a black granite pedestal and is the centerpiece of Apalachicola's Veterans Memorial Plaza.

BOARD OF DIRECTORS
Jimmy G. Mosconis, President
Mark Curenton, Secretary/Treasurer
James S. Elliott
Al Mirabella, Jr.
George W. Duren
Helen Townsend Spohrer
Curt Blair
Dewey A. Blaylock
Jim Norton

Nick Yonclas, Legal Counsel
Genie Nichols, Assistant to President