News/Archives
HONORFLIGHT



HONORFLIGHT 1
LOIS SWOBODA | The Times
Tom Napier and Mac Kemp represented Tallahassee Honor Flight at Camp Gordon Johnston Days on March 8.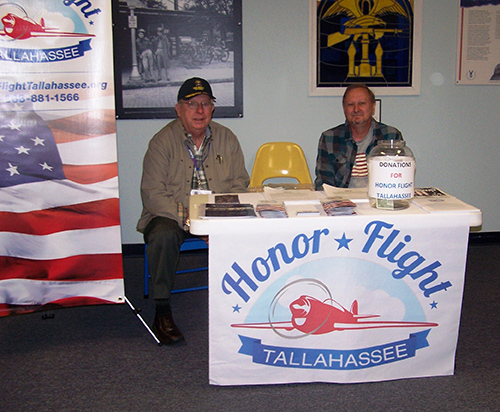 Giving back to the Greatest Generation




Do you know a veteran of World War II? Honor Flight wants to meet them.

There are still seats available on Honor Flight Tallahassee's first charter flight to Washington D.C. Chairman Mac Kemp said the organization's goal is to Carry 75 to 80 veterans to view the World War II monument.

Honor Flight is a non-profit organization created solely to honor America's World War II and terminally ill veterans for all their sacrifices. Our heroes are flown to Washington, DC to visit and reflect at their memorials at no cost to the traveler. Meals and rooms are paid for and a guardian accompanies each veteran for their entire trip. Physicians and paramedics are on hand to provide emergency medical treatment throughout the journey.

Tallahassee is Honor Flight's newest hub.

The inaugural Honor Flight took place in May, 2005. Six small planes flew out of Springfield, Ohio taking twelve World War II veterans on a visit to the memorial in Washington, DC. The Honor Flight program was conceived by Earl Morse, a physician assistant and Retired Air Force Captain. Earl wanted to honor the veterans he had taken care of for the past 27 years. After retiring from the Air Force in 1998, he was hired by the Department of Veterans Affairs to work in a small clinic in Springfield. In May of 2004, the World War II Memorial was finally completed and dedicated in Washington, D.C. and quickly became the topic of discussion among his World War II veteran patients.

Morse asked these veterans if they would ever travel out to visit their memorial. Most felt that eventually, somehow, they would make it to D.C., perhaps with a family member or friend. As time passed, most of his very elderly patients changed their answer. They would never visit the memorial they admitted sadly. It simply wasn't financially or physically possible for them to make the journey.

Morse could tell that the majority of the veterans had given up all hope of ever visiting the memorial that was specifically created to honor their services as well as the services of their fellow comrades who had paid the ultimate sacrifice. He decided that there had to be a way to get these heroes to D.C. to see their memorial.

In addition to being a physician assistant, Morse was also a private pilot. In December of 2004, he offered to fly one of his patients to Washington to see the memorial. That generous offer was the seed that grew into the Honor Flight movement. Soon other private pilots volunteered to fly veterans to Washington at their own expense and shepherd them through the city. By August of 2005, an ever-expanding waiting list of veterans made it clear that commercial airlines would be needed to meet the goal of accommodating as many veterans as possible. Honor Flight partnered with HonorAir in Hendersonville, North Carolina, the Honor Flight Network formed.

Over time, the organization expanded its mission to include terminally ill veterans of the Vietnam and Korean Wars.

With the continued support of grateful Americans, by the end of 2012, HFN had transported more than 96,000 veterans of World War II, Korea and Viet Nam to see the memorials built to honor their suffering and sacrifice to keep this great nation free and a world leader.

Applications to travel to Washington as an honored veteran are available at http://www.honorflightsefl.org/applications.php. Once the completed application is received, it will be added to the veteran waiting list. Veterans are selected to go on the trip based on date order that the application is received. Once his or her name comes to the top of the list, they will be contacted and invited to go on the trip.

You can also call direct to Honor Flight Tallahassee at (888) 881-1566.

Honor Flight is a registered not for profit organization.

There are several ways you can help Honor Flight complete its mission of providing every veteran with an opportunity to visit their memorial.

Volunteers are always needed to help with the program. Each flight requires approximately 250 man-hours to bring together and that's before we get off the ground. We need help in many areas: pre-flight operations, fundraising, communications, airport logistics, administration and more.

Volunteers pay their own travel expenses. Medical professionals are especially needed.

All donations to Honor Flight are tax deductable. You can donate with PayPal by visiting http://www.honorflightsefl.org/donate.php or send a donation to Honor Flight POB 12033, Tallahassee, FL 32317.

Are you a runner? Participate in Race the Runway at the Tallahassee Regional Airport on April 13. Your $25 entry fee will help support Tallahassee Honor Flight. For more information, visit www.racetherunway5k.com.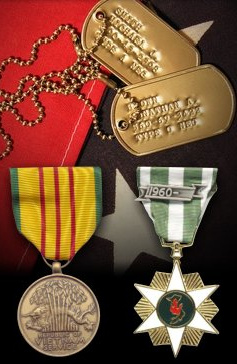 The Three Servicemen Statue South non-profit organization was created to raise the necessary funds to bring this one-of-kind detail of the original sculpture to Apalachicola, Florida. The Three Soldiers, Detail bronze sculpture, made from part of the original molds, is set on a black granite pedestal and is the centerpiece of Apalachicola's Veterans Memorial Plaza.

BOARD OF DIRECTORS
Jimmy G. Mosconis, President
Mark Curenton, Secretary/Treasurer
James S. Elliott
Al Mirabella, Jr.
George W. Duren
Helen Townsend Spohrer
Curt Blair
Dewey A. Blaylock
Jim Norton

Nick Yonclas, Legal Counsel
Genie Nichols, Assistant to President